Photo Gallery — Barbados
Seven students from The Garrison Secondary School in Barbados, were awarded the opportunity to attend the University of the West Indies (Cave Hill Campus), where they participated in a program designed for prospective fifth-formers.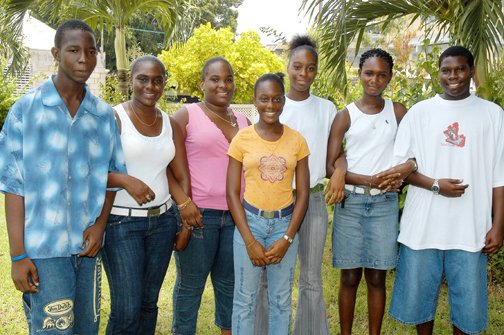 :: Garrison Secondary School students - Rory Weekes, Shakita Browne, Tara Warner, Sharika Whitford, Natasha Conliffe, Kieshia Davis and Nykeem Harewood. [2005]
Barbados' Homevillage Development Foundation (HDF) has partnered with the Ellerton Young Mothers Collective (EYMC) to develop a program aimed at teaching young mothers in Ellerton, St. George, how to be self-sufficient through owning and operating their own business.
In August 2005, The Millennium Fund showed its support of this outreach by donating to HDF, a gift of two computers and two printers, to facilitate administration of the project.
The photos that follow are of events we havesponsored,supported, or facilitated in some way to make it possible for children to participate and reap the benefits.